Mercruiser Pipe Plug *Upper Gearcase part
Upper Housing Plug for the Mercruiser Stern Drive Gearcase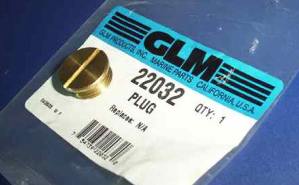 22032 Mercruiser pipe plug
22032 Upper Gear Case Mercruiser Plug 22-42861-1
GLM Marine P/N 22032 $6.99
Customers who ordered P/N 22032 also purchased:
22031

Welch plug P/N 22031

This part is installed over the pipe plug. Use a sealing compound when installing this onto the upper housing. Replaces OEM 19-42682 or Sierra P/N 18-4273.

87500
GLM aftermarket Mercruiser upper gearcase seal kit

Sealing kit P/N 87500

is required if you are replacing internal parts in the upper gear case.

If just replacing the outside plugs, this seal kit is not required. Replaces OEM 26-32511A1, Sierra P/N 18-2648.