Mercruiser manifold GM 305 327 350 engine before 1977
GLM aftermarket parts use with 305 - 327 - 350 (before 1977)
V8 GM small block engines
GLM Marine aftermarket Mercruiser manifolds for use with models: 198 / 228 / 898 / 225 / 255 / 270 GM engines.
V8 GM small block, fully tuned design will guide exhaust gases directly to elbow without turbulence and back pressure in the meantime, additional 40% water cooling area will decrease the entire manifold body temperature significantly.
The tuned design will reduce turbulence and enhance flow for higher and maximum engine power.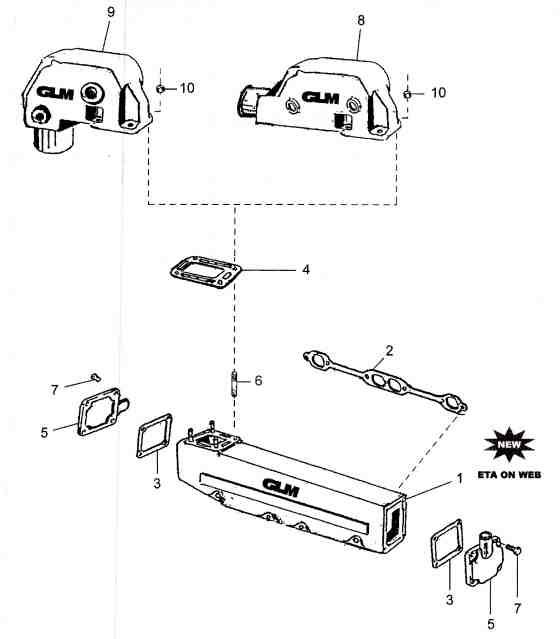 GM 305 327 350 V8
Item 1a
P/N 51233 Mercruiser parts assembly exhaust manifold (port side) OEM 47737A10 Discontinued
Item 1b
P/N 51234 Mercruiser parts assembly manifold (starboard side) OEM 47738A10 Discontinued
Item 2
P/N 31100 Gasket (2 units) OEM 27-33395 $11.95
Item 3

P/N 31490 End cap gasket (5 units) OEM 27-48043-1 $15.95
Item 4
P/N 31480 Gasket (2 units) OEM 27-48042 $5.95
Item 5
P/N 51010 End cap OEM 60252A2 $62.95
Item 8
P/N 51196 Mercruiser engine exhaust elbow 72963A9 $208.95 Call for availability
Item 9
P/N 51194
Mercruiser marine engine exhaust elbow OEM 76668A3
$199.96
Call for availability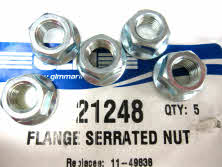 21248 Flange Serrated Nut
Item 11
P/N 21248 Flange serrated nut OEM 11-49838