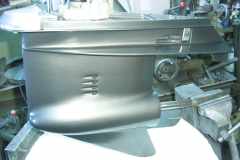 Lower gear case Cobra outdrive
Propeller shaft with greater than .002 run out will soon be broken seal with oil leaking out at high rpm levels.
Prop shaft run out should be checked before shaft is removed from unit.

Drive-shaft bearing play from side to side can be measured at this time.

Pinion gears with broken shafts or pinion nuts are best removed by drilling one 13/64 inch hole to aid in removing dowel pin from the clutch dog.

If you can remove the spring, and push out the dowel pin the drive shaft will pull out easy.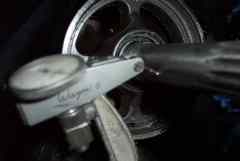 OMC Cobra repairs prop shaft dial indicator
After hole is drilled a long 3/16 punch will move the 1/4 inch dowel pin to the side and allow the drive shaft to come out.

Hole can be filled by tapping hole with a 1/4 - 20 NC. thread.

Fill with stainless steel set screw and then using 680 green Loctite to hold unit in place.