OMC Cobra oil refill instructions
Instructions on how to fill your OMC Cobra stern drive with oil, complete with photos and tech help
OMC Cobra lower gearcase photos
Links to technical drawings
Step by step oil filling instructions
GLM aftermarket replacement plugs and parts are available
Search by part number or description here
By author Trish Dougherty
OMC Cobra sterndrive has one cavity where the oil is stored, so all the oil in the upper and lower gearcase must be changed and filled at the same time.
Follow these easy steps to change the oil in your drive.
If you have not yet drained your oil, see our Draining your OMC Cobra's oil help page before filling your sterndrive with oil. To view technical drawings for OMC upper and lower gearcases, see your I need help page.
For this job, you will need...
2 or more quarts of oil
Large flathead screwdriver
Rags
Replacement oil draining screw gaskets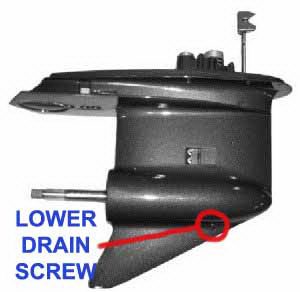 OMC Cobra oil filling diagram
Oil filling diagram
Start off by locating the lower drain screw/plug on the
lower gearcase.
(It is on the starboard side of the lower unit on the cone - shown in photo).
Remove this plug using the largest blade flathead screwdriver available. Insert your oil pump as snug as possible into the drain hole.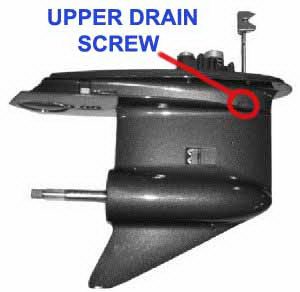 Cobra lower gearcase upper drain screw location
Lower gearcase upper drain screw
Locate the upper drain screw/plug (shown in photo), and remove it using the same flathead screwdriver you used to remove the lower drain screw. Begin pumping oil into the lower drain hole, and carefully watch the upper drain hole until you see the oil reach this level. When the oil just reaches the upper drain hole, close it up by inserting the upper drain screw. (DO NOT STRIP the screw when making sure it is tight enough)

Lower unit oil pump
Remove the oil pump from the lower drain hole, and quickly insert the drain screw/plug.
Again, remove the drain screw from the
upper portion of the lower gearcase, and quickly insert the oil pump into the upper drain hole.
Begin pumping oil to proper level on upper gearcase dip stick.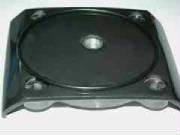 Dip stick location
On the top side of the
upper gearcase
, you will see a cover, with four large bolts attached to it. In the center of this cover or cap, you will see a 3/4" diameter flathead dipstick.
Remove it, and note where the oil level is. The oil level on an OMC Cobra should be at the line on the dipstick. If it is not at this line, keep pumping in oil through the lower units upper drain hole.
When the oil reaches the line, put the dipstick back in. Remove the oil pump, and quickly insert the lower units upper drain plug. Make sure this screw/plug is tight, but be careful not to strip the screw.
| | |
| --- | --- |
| Lower unit oil pump | Oil pump $12.29 |
| 21731 Draining screw washer | Replacement oil draining screw/plug (includes 1 gasket) P/N 21731 Draining screw $5.89 OEM 318544 |
| 31171 Gasket | Replacement oil draining screw/plug gaskets (5 units) P/N 31171 Gaskets $4.89 OEM 311598 |
| 28404 cobra cover o-ring 2 | Replacement top cover assembly P/N 28404 Cover assembly $71.89 OEM 914489 |
| 21732 Dipstick | Replacement dipstick for top cover P/N 21732 Dipstick $24.00 OEM 914488 |